Isabelle Adjani in The Story of Adèle H. | Possession | Adolphe
Film Actresses & Global Classics
In this series I offer my reflections on actresses and their most compelling performances in (mostly) classics of global cinema.
ISABELLE ADJANI: ADÈLE H., ADOLPHE, POSSESSION
Isabelle Adjani with a portrait of her father | Photo: Banier
Isabelle Adjani, 'La Passion Amoureuse' | Photo: André Rau
Of the outstanding actress from the mid-sixties to today, the ones who move me most are the ones who have the feu sacré, that magical alliance of talent and intensity that, beyond making a performance compelling, carries it into the sublime. I'm thinking of Vanessa Redgrave and Glenda Jackson, Liv Ullmann and Margit Carstensen, Isabelle Huppert and Nicole Kidman, and above all, Isabelle Adjani. Why Adjani above all? Simply because of her incandescence in walking the knife-edge of the feminine, finding resonances between her life and her roles that make her heroines luminous. Never power without vulnerability, never experience without innocence, never achievement without challenge: with these intuitions her acting is infused, and when she uses them to portray a woman in love, she is, as an actress, untouchable. Love, the feminine, acting—these are the themes I will address in this post on Isabelle Adjani and The Story of Adèle H. (François Truffaut, 1975), Adolphe (Benoit Jacquot, 2002) and Possession (Andrzej Zulawski, 1981).
Isabelle Adjani | Photo: Karl Lagerfeld
An art form yields the fullness of its potential only when the artist plays to the form's distinctive traits. Thus painting is most painterly when it renounces illustration, literature is most literary when it pushes toward the origin of language, and architecture, as Peter Eisenman has said, 'only begins once all the functions have been fulfilled'. What, then, of acting? An actress' medium is her body/voice. She is most effective when, maintaining a tension between meaning and the mysterious, she uses her body/voice to connect with the spectator's fears and desires. As she is both herself and another, she will at once attract and repel as she conjures the uncanny. And since she is an interpreter, she will work with a director to embody a text. Her art thus lies at one remove from the director and at two from the writer: she can deliver its full potential only when both writer and director are sufficiently challenging. The writers and directors of the films in question meet this criterion, so I include their contribution when I speak of Adjani's acting.
The Story of Adèle H., Adolphe and Possession are all stories of morbid love. Morbid love? What lover has not gone to 'extraordinary' lengths to win their beloved? What beloved has not had trouble accepting their lover's feelings have changed? What lover has not felt confined in a couple and wanted to get out? And therein lies Adjani's genius: She shows us the fine line between 'morbid' love and the 'normal' kind. Indeed, as the films make clear, every symptom is an attempt at self-cure, and so the difference between 'morbid' and 'normal' love comes down to the lover's 'choice of symptom'. Psychoanalytic theory of the couple need not concern us here; suffice it to say, with Joyce McDougall in Plea for a Measure of Abnormality, that 'normopathy', the fear of individuality, is a symptom like any other, except for the fact that it is generally invisible because the normopath, by definition, 'is like everybody else'. All Adjani's heroines proudly declare (as in the Kinks' song), 'I'm not like everybody else'. They are true individuals. They have more split than fit, they don't conform, and thanks to them our 'normality' is thrown into question. Is that not the very function of art? To confront us with our own individuality? Whether we assume it or not is up to us. Normopaths don't, and by definition they make up the majority. Here are three films, then, for the 'happy few' that make up the minority.
Isabelle Adjani, The Story of Adèle H., François Truffaut
Isabelle Adjani and François Truffaut
The Story of Adèle H. is based on Frances Vernor Guille's edition of Adèle Hugo's diaries. In the foreword to the English version of the script (Grove Press, 1976), Truffaut writes that, ever since The Wild Child (based on Dr. Jean Itard's memoir), he had been 'fascinated by the creative process of using real-life events as a basis for a fiction that would not distort the authenticity of the source material'. This documentary dimension of the film (to Méliès Truffaut has always preferred the brothers Lumière) is certainly part of the film's power, but what makes the film so moving is Isabelle Adjani's incarnation of Adèle.
Just what, in fact, is Adèle's story? It goes like this. Obsessed, and later consumed, by her one-way passion for Lieutenant Albert Pinson, Adèle crosses the Atlantic, from Guernsey to Halifax (where Pinson is now stationed), and attempts to make him marry her. For him, their brief relationship in Guernsey was of no consequence; for her , it holds out nothing less than the promise of redemption. In Adèle's pursuit of Pinson, as Truffaut puts it his foreword, 'every word she utters and every move she makes is related to her fixation; though she fights a losing battle, she is constantly active and inventive'. All to no avail: Pinson rejects her every advance, all her carefully-crafted stratagems. When she pleads with him to simply let her love him, that too is—'naturally'—rejected. When Pinson's regiment is transferred to Barbados, Adèle follows him there; exhausting her resources, she falls deeper into madness as her love remains unrequited. Finally, utterly destitute after nine years of fruitless wandering, she is accompanied back to France by a local woman. There, her family quickly has her interned in an asylum where, gardening and playing the piano, she lives out the remainder of her life.
Bruce Robinson and Isabelle Adjani, The Story of Adèle H., François Truffaut
Clinically, Adèle's obsession is classified as a delusional disorder, a variety of paranoia in which the subject wrongly believes her beloved is in love with her. Hence the name 'erotomania' to describe the condition. Because of its 'disorder-of-passion' dimension (common to all love affairs), psychoanalysts are reluctant to consider erotomania a full-blown psychosis (see, for example, François Perrier's essay on the subject in Le désir et la perversion, an anthology built around the thesis that 'all desire contains a kernel of the perverse', or Clérambault's assertion that 'the delusional person caught up in a passion is delusional only in the domain of their desire'). So, if every symptom is an attempt at self-cure, what in herself is Adèle trying to cure through her erotomania? This question takes us to the heart of The Story of Adèle H.
Viewers will catch the clues at their own pace—like all true artists, Truffaut doesn't tell, he shows—but only the most obtuse spectator will leave the cinema unaware that The Story of Adèle H. is a story of a daughter's unrequited love for her father and its devastating consequences. We see the images in the picture album Adèle shows to Mrs. Saunders; we learn the story of Léopoldine, which Adèle concludes with this retort to her landlady: 'You don't know how lucky you are to be an only child!'. We then witness the first of Adèle's nightmares of drowning, and notice how her terror seems to derive as much from identity loss through merger with her sister as from the horror of suffocation by submersion in water: an omen of her fate as she struggles for a place in her father's heart. Later, we hear what she writes in her journal: 'I denounce the sham of the registry office records and the fraud of identity… I was born of an unknown father, an unknown father, of a completely unknown father'. And thus it becomes clear that Adèle finds it impossible to assume her place in her genealogy, that for her hell is more than 'other people': it is her own family. Her consuming love for Lieutenant Pinson, we come to understand, is an attempt to cure herself of her family trauma.
Adèle showing Mrs. Saunders her Hugo family album
If love is always the repetition of our history of love, then inevitably family experience will interfere in our attempts to love and be loved. Complementing the clues in the film with a visit to the library, we learn that Léopoldine, Victor Hugo's favourite daughter, was named after Léopold, the Hugo's son who had died in infancy. The great poet structured his mourning for his dead daughter (newly wed, she was not yet nineteen when she drowned in the Seine) in a cycle of eighteen poems that quickly became classic, making Léopoldine mythic. Her husband, Charles Vacquerie, unable to save her, chose to drown with her, thus reinforcing the myth of the ill-starred couple. Adèle, before she met Lieutenant Pinson, had been seen as a prospective bride for Vacquerie's brother, Auguste. Moreover, Adèle not only carried the weight of the Hugo name, but also shared her first name with her mother. The daughter who really disappeared, then, was not Léopoldine but Adèle. A skeleton in the family closet, her posthumous life was launched by The Story of Adèle H. Why didn't her father love her 'well enough' (as Winnicott would say)? Firstly, she reminded him that her mother was having an affair at the time (though her paternity was never really in doubt). Secondly, Adèle's living presence awakened her father's memories of his preferred daughter. Finally, the great man feared Adèle's behaviour would put a stain on his name. If the circulation of love in families is always complex, it's nevertheless clear that Adèle was sacrificed to paternal ambition.
Erotomania, like hysteria and anorexia, are 'attempts at self-cure' most commonly found among women. Acting, while not necessarily an 'attempt at self-cure', is, as many directors affirm, an eminently feminine profession. Why? Perhaps because in the feminine there is always something unformed, and this open-endedness creates a space for play and experiment. In the same way that she inhabits her body, the actress can inhabit this space. Isabelle Adjani was nineteen and still living at home with her parents when she began filming Adèle H. Though she'd been acting since she was fourteen and at the Comédie Française since seventeen, she was, by her own account, far from worldly-wise (see Télérama interview [in French]). And yet her performance of Adèle's passion carries utter conviction; she conveys her ecstasy and pride in a manner at once exalting and terrifying.
Isabelle Adjani, L'Histoire d'Adèle H., François Truffaut
How does she do it, what makes her so magnetic? I am tempted to say 'genius' and leave it at that, but 'body/voice' imposes itself: If life in the voice springs from emotion, I can only assume there are vast reserves of feeling in the actress' inner life (one in which her relation to her father, as she declares in this Télérama interview, occupies a primary place). As for the body, Artaud's words come to mind: 'The primal language of the body stops ideas in flight before they transmute into the abstract'. Yes, that's it, the primacy of physicality: 'It is through the skin that the metaphysical will re-enter the mind'. In the theater of cruelty Adjani is in her element. Her body/voice, unremitting in its immediacy, is a lightening rod linking heaven, earth and underworld: whatever the register, she transgresses the 'natural'. Her method as an actress is to break down and regenerate herself; in doing so, she throws into question our self-experience. I, for one, find that exhilarating.
Tomorrow, at daybreak…
Victor Hugo, translated by Richard Jonathan
Tomorrow, at daybreak, when the countryside whitens,
I'll set out. You see, I know you're waiting for me.
I'll go by the forest, I'll go by the mountains,
No longer can I remain far from you.
I'll walk with my eyes fixed on my thoughts,
Seeing nothing around me, hearing no sounds,
Alone, unknown, my back bent, my hands crossed,
Sad, and the day for me will be like the night.
I will look neither at evening's deepening colours,
Nor at the distant sails heading for Harfleur,
And when I arrive, I'll place on your grave
A bouquet of green holly and flowering heather.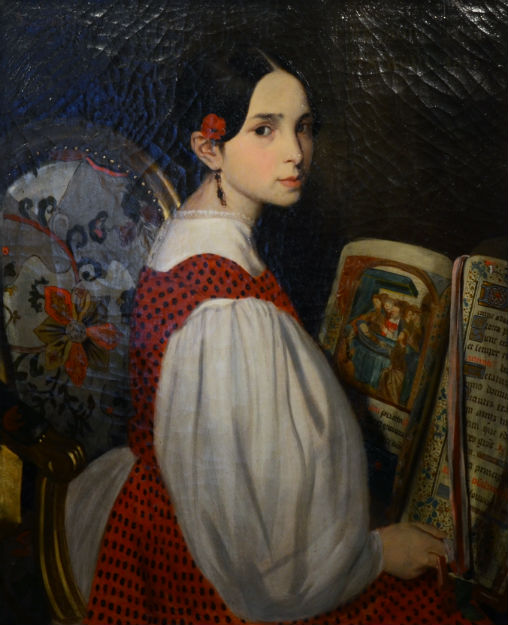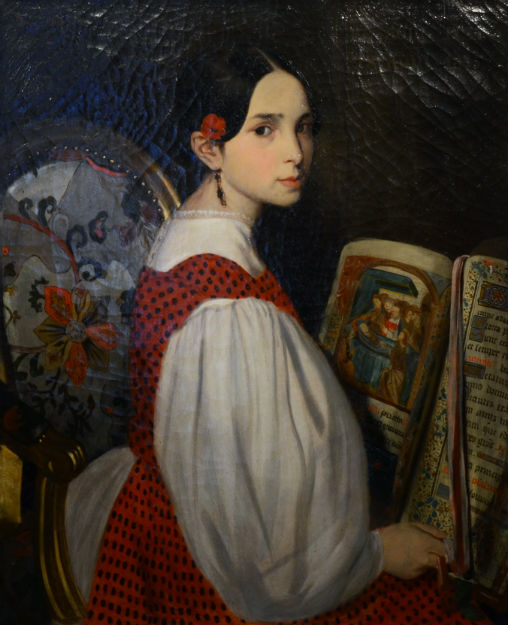 Auguste de Châtillon, Léopoldine Hugo, 1835
Demain, dès l'aube…
Victor Hugo
Demain, dès l'aube, à l'heure où blanchit la campagne,
Je partirai. Vois-tu, je sais que tu m'attends.
J'irai par la forêt, j'irai par la montagne.
Je ne puis demeurer loin de toi plus longtemps.
Je marcherai les yeux fixés sur mes pensées,
Sans rien voir au dehors, sans entendre aucun bruit,
Seul, inconnu, le dos courbé, les mains croisées,
Triste, et le jour pour moi sera comme la nuit.
Je ne regarderai ni l'or du soir qui tombe,
Ni les voiles au loin descendant vers Harfleur,
Et quand j'arriverai, je mettrai sur ta tombe
Un bouquet de houx vert et de bruyère en fleur.
'ADOLPHE', BENOIT JACQUOT, 2002
Isabelle Adjani, Adolphe, Benoit Jacquot
'It's a terrible misfortune not to be loved when you are in love; but it is a far greater misfortune to be loved passionately when you no longer love.' So says Adolphe (Stanislas Merhar) in voice-over as he is nursed by Ellénore (Isabelle Adjani) after being wounded in a duel he'd fought to defend her honour. His statement captures the dramatic premise of the film, a love story in which lover and beloved are each the other's victim and torturer. The film ends with a funeral procession in the snow-bound wastes of Poland. Cold, lonely, sidereal, that is the feeling Adolphe experiences as Ellénore's death finally ends the struggle between love and freedom that had driven the narrative. Like Adèle H. and, as we shall see, Possession, Adolphe is a film about responsibility in love: ethics is central to all each.
Stanislas Merhar as Adolphe | Isabelle Adjani as Ellénore
Isabelle Adjani and Stanislas Merhar, Adolphe, Benoit Jacquot
The story is simple, the context complex. First, the story: He decides to seduce her—she resists. He falls in love with her—she keeps her distance. He persists—she gives in. He falls out of love—she falls in. He can neither commit to her nor end their affair—she remains steadfast in her love. He finally decides to leave—she learns of his decision, falls ill and dies. That's the story. Now the context: He is a young man of noble birth and refined sensibility, suspended between his student days and the call of a government career. She is a woman living with a Count and their two children, suspended between respectability and disgrace. He initiates the affair out of boredom; she resists because her social place is precarious. His inability to surrender to love is consistent with the 'exhaustion' of post-revolutionary France, where ideals and faith battle with cynicism and hypocrisy, the corpse of the old world an obstacle to the advent of the new. Her surrender to love—to be with Adolphe she gives up both the Count and her children—is perhaps an attempt to find redemption on her own terms. If this is not the stuff of Racinian tragedy so dear to Isabelle Adjani, it is the kind of material out of which Thomas Hardy wove his 'tragic' novels (Tess and Jude are among Adjani's bedside books—see this interview in Libération.
As you have certainly noticed by now, Ellénore shares with Adèle 'the same impossibility, to the point of madness, to extract herself from a fatal love, to escape from the deceptive object that dominates all her thoughts' (Adjani, Libération). If Adèle's erotomania was an attempt to cure the trauma of being unable to fit into her genealogy, what is Ellénore trying to cure herself of by her self-abasement? What do her pride and wilfulness, her refusal to accept that Adolphe no longer loves her, signify? Ellénore is no Emma Bovary; on the contrary, she is lucid about Adolphe, understanding that his love was, at best, tenuous, and has become mere pity. And yet with a masochism that is very feminine, she accepts humiliation because she can't bear to see him go. Clinically, she is a case of 'love-at-the-mercy-of-passion', seeking fusion with the man she loves because unable to tolerate separation from him. And thus her passion sabotages her love, for love—thanks to the desire that accompanies it—is separation, discord and distance, whereas fusion precludes encounter: it is a lonely place where desire cannot dwell. Hence the sterility of their love affair, with Adolphe dissecting his every feeling and Ellénore wallowing in her suffering.
Stanislas Merhar and Isabelle Adjani, Adolphe, Benoit Jacquot
Isabelle Adjani, Adolphe, Benoit Jacquot
This, then, is the material the actors have to work with. Both Isabelle Adjani and Stanislas Merhar are outstanding in their roles—if Adèle H. is a sonata for solo piano, Adolphe is a sonata for piano and violin—but my task here is to focus on the actress. In Adèle H., Adjani largely submitted to the 'demon of her entrails'; in Adolphe, she trades that 'primitivism' for an art of nuance. Here, her entire body-voice is concentrated in her face. Just as Ingmar Bergman's Persona is, from the perspective of acting, a film about Liv Ullman's face, so Adolphe is a film about Adjani's. All the emotions that punctuate her experience of the affair—curiosity (the first spark of interest); hope and apprehension (the push-and-pull of attraction and retreat); anticipation (the projection into the possible); vigilance (the risk of making oneself vulnerable); ecstasy (bodily surrender, surrender of the self); desire (the rock of possession); contempt (the hard place of reproach); shame (the darkness of delusion); pride (the cold light of lucidity)—all play out in the rose and white of Isabelle Adjani's face. In her serenity she is alert; in her sadness, hopeful. In her grief she is still giving; in her amazement, resigned. Adolphe is chamber music, Adjani the piano, Merhar the violin: In the film Adjani proves that the most formidable musical task for a pianist is not the playing of a bravura piece, but rather to play a slow movement from Beethoven, Mozart or Schubert—to play it well, with perfect nervous and sound control. In a word, the quietness of her acting is astounding. And I, for one, find that exhilarating.
BENOIT JACQUOT: WHAT 'ADOLPHE' TAUGHT ME ABOUT MEN AND WOMEN
Benoit Jacquot: 'I who took Constant's Adolphe for the definitive book on masculine humanity, I realized, thanks to Isabelle and the film, that something happens through Adolphe that enables one to show a woman in a new light. The book is like a documentary on men, and as such it might fascinate women. Adolphe is Benjamin Constant himself, whereas Ellénore is a fiction, made up of several women that Constant knew. Men always think that women find a certain jouissance (paradoxical pleasure) in being unhappy. They understand their error only when it's too late. That's what Adolphe is about, that time lag before men understand women's reality, their always being too late, and how they're always surprised that they failed to see certain things.'
Translated by Richard Jonathan from Xavier Lardoux, Le Cinéma de Benoit Jacquot (Paris : Éditions PC, 2011) page 134.
Stanislas Merhar, Adolphe, Benoit Jaquot
'POSSESSION', ANDRZEJ ZULAWSKI, 1981
Isbelle Adjani, Possession, Andrzej Zulawski
'Beauty will be convulsive or will not be at all': Possession, more than any other film I know, incarnates this conception of beauty. To my mind, it is simply the most ravishing love story in the history of cinema, a sublime piece of filmmaking that leaves in the dust the illustrated literature that passes for cinema in the minds of the majority (as I said in the Introduction, Possession is a film for a minority, a 'cult film', but even more than the other two, it is a film for the 'happy few'). In it, Zulawski restores to love its vital, transgressive force, its dimension of awe that overwhelms. And as it is a film about the breakup of a marriage, pain and desolation pervade it: blue is its dominant colour. Blue—paint a wall blue and it is no longer a wall: enter the realm of the surreal, the other side of the looking-glass. Yes, blue awakens a hunger for what surpasses nature: blue is the colour of truth. Which brings us to ethics. In Possession, as in all great works of art, the dynamics of ethics are central. Indeed, with unrelenting courage, the film makes an attempt on the gods. The spiral-staircase scene that closes it, the scene in which the heroine kills herself to join the hero in death, shows the attempt has succeeded (as much as any attempt on the gods can ever succeed—look at the Greeks, look at Shakespeare, look at Beckett's post-tragic drama). Need I add that without Isabelle Adjani (and Sam Neill), the film could never have succeeded as it has?
Sam Neill as Mark | Possession, Andrzej Zulawski | Isabelle Adjani as Anna
Isabelle Adjani and Sam Neill, Possession, Andrzej Zulawski
What's the story? Berlin. 1980. Mark (Sam Neill) returns from a secret assignment to find his wife Anna (Isabelle Adjani) in a state of anxious distraction. Turns out she is having an affair and is impatient to get back to her lover. Alone with their six-year-old son in their apartment, Mark tracks the lover down—his name is Heinrich—only to discover that Heinrich, who'd also been away, has not seen  Anna since his return. Mark takes a strong dislike to Heinrich; their arguments turn violent. He then makes it clear to Anna that he wants her back; she, manifestly in the grip of some obsession, can't come back. As she comes and goes over the following weeks, their disputes attain a fever pitch. Anna is evasive; she won't say who her lover is or where they are living. In an attempt to discover just what she is up to, Mark hires a detective agency and, in addition, starts cooperating with Heinrich. After a number of twists and turns, they locate Anna's new apartment. Heinrich visits her first, and is shocked to find she is living with monster, an octopus-like creature. Anna, in a trance-like state, wounds Heinrich with a knife; he calls Mark from a local bar to come and see what he's seen. Mark discovers the monster, then meets Heinrich in the bar and murders him in the basement toilet. He then returns to Anna's apartment and sets the kitchen aflame, thereby destroying the evidence in the refrigerator: Anna had killed the detectives who'd tracked her down. He is clearly on her side now, and is doing everything he can to save her. After more twists and turns, Mark, pursued by the spy network he had worked for, is shot at the top of a spiral staircase. Anne runs to him and, finding him dead, shoots herself. Mark's doppelgänger (Anna too had a double, Helen) then tries to reach the sky through the roof: he falls to his death in the stairwell.
If Possession has a certain kinship with the horror film, for Zulawski (as he said in an interview) 'the real horror is when you have a couple that break up and neither one knows why'. Indeed, this is the heart of the film, the driver of the drama: Anna wants both out and in of her relationship with Mark, while Mark, conventional at first in his response to her, ends up loving her more truly than ever before. Their joint death may be seen as a 'black' marriage, the inverse of the wedding-in-white and its promise of living 'happily ever after'. In an earlier Zulawski film, The Devil, there is the line: 'Deprivation is when you live by other people's ideals'. This remark captures the kernel of Zulawski's ethics, and in Mark and Anna's marriage it plays out as the affirmation of individuality, the refusal of alienation. Indeed, if Possession is a fairy-tale, this is its moral: Happiness is hard to come by, the couple is complex, but if you 'take the highway to the end of the night', you just might reach 'the bright midnight' (Jim Morrison). And so Mark, in his growing love for Anna, in his effort to get closer to her, adopts her language (blood, fire, action); he goes down into her darkness in order to bring her into the light (like Orpheus for Eurydice). 'Increase me in bewilderment of you', says the Sufi mystic, and Mark too seems to have adopted this stance, for his faith in Anna becomes absolute. Increasingly attuned to her, they achieve a closeness they never could in their 'white' marriage. Indeed, in the kinetic expression of their emotions all the alternations of fortune that beset any couple resolve themselves. Finally, by choosing the time and manner of their deaths, they steal death's authority; in an ultimate act of self-affirmation (as Catherine Millot wrote of Mishima) they destroy themselves in order to exist.
Isabelle Adjani and Sam Neill, Possession, Andrzej Zulawski
Isabelle Adjani, Possession, Andrzej Zulawski
Now, you must be wondering, just what is that monster all about? There are, of course, no definitive answers. For Zulawski himself, the monster is 'what I found in the attic'. As he explains in an interview with Film Comment (I've edited it slightly, to make it more readable):
I was living in Paris and I went to see Ingmar Bergman's Scenes from a Marriage. It's a brilliant, extremely well-acted film, but I left the cinema feeling empty. I went out and I said, All right, the analysis is perfect. It's cold, it's brilliant, like always. But so what?' I was walking the streets, I remember it was raining, and I said, Look, the beauty of the stories that we tell our children is that there is always something fantastic at the end, something like: 'So they walk along the path and they go into the house… This is the ground floor, this is the kitchen—but what's in the attic?' And I was thinking, Okay, in my story, what kind of attic does it really have? If I go up the stairs out of the realistic realm and into the fantasy, the science fiction, what is the fairy tale? What is the bad element in the fairy tale? So I went into the attic and I found a monster.
In his audio commentary on the German edition of the DVD, Zulawski said that 'the script called for the gooey fluid Adjani gave birth to to be taken home and put in her bathtub, and from there it would take shape into something that evolves into her husband'. In the final scene, Mark's doppelgänger was to have the same green eyes that Helen, Anna's double, has. Technical problems and time constraints, however, made this impossible. Zulawski never forgave the cinematographer for not getting Mark's green eyes right, but regarding the monster, he did 'go with the flow' of special effects artist Carlo Rambaldi's version of the creature.
Isbelle Adjani, Possession, Andrzej Zulawski
Isabelle Adjani and Sam Neill, Possession, Andrzej Zulawski
Here are my speculations on the matter. The monster is Anna's pharmakon, and she herself secretes it. Pharmakon, you may recall, is at once remedy, poison and scapegoat, and for Anna the monster does indeed play all these roles. In his role as remedy, then, what in Anna is the monster an attempt to cure? All we can say is: 'some malaise of marriage'. (Those of you married more than seven years will have no trouble leaving it at that; for the rest of you, check back when you've reached that milestone.) In his role as poison, the monster is the devouring demand, the vampirizing demand—perhaps of sex as a form of self-soothing—to quieten the 'malaise'. And as scapegoat? Perhaps for that something inside her that is killing her, something akin to the violence that consumes Ellénore in Adolphe. Anna, rather than attack herself by falling ill as Ellénore does, attacks the monster in sexual combat. As I said, I'm speculating.
Another hypothesis might be that the monster, for Anna, represents the essence of sex, a fantasy of absolute fulfillment that no human could ever match. He might be the only 'man' Anna could permanently reduce to the body alone. I say this in light of the following remarks from Jan Kott (a theorist of the theater and a compatriot of Zulawski), from 'A Short Treatise on Eroticism' in The Memory of the Body, 1992, pp. 74-75):
The paradox and sadness of eroticism consists in the fact that its absolute fulfillment is not possible. Testing is possible only during the act itself. To possess means just that. But the moment the act is over, the partner and his/her body become separate again. The body is a stranger again, it exists for itself and not for me. The partner, real and created, the partner of the consummated act and the partner of imagination, becomes ambiguous again. He/she has to be tested again. And testing is possible only through a new act, through another appeal to the body. For the body is an essence and there is no other essence apart from the body. But the reduction to essence is possible only for a fleeting moment. The partner escapes again and cannot be permanently reduced to the body alone. This is probably the reason for the failure of every passion, and possibly also for the failure of the phenomenon we call love.
Again, I'm only speculating. (Send a comment via the comment box below if you'd like to offer your own ideas.)
Anna making love with the 'octopus', Possession, Andrzej Zulawski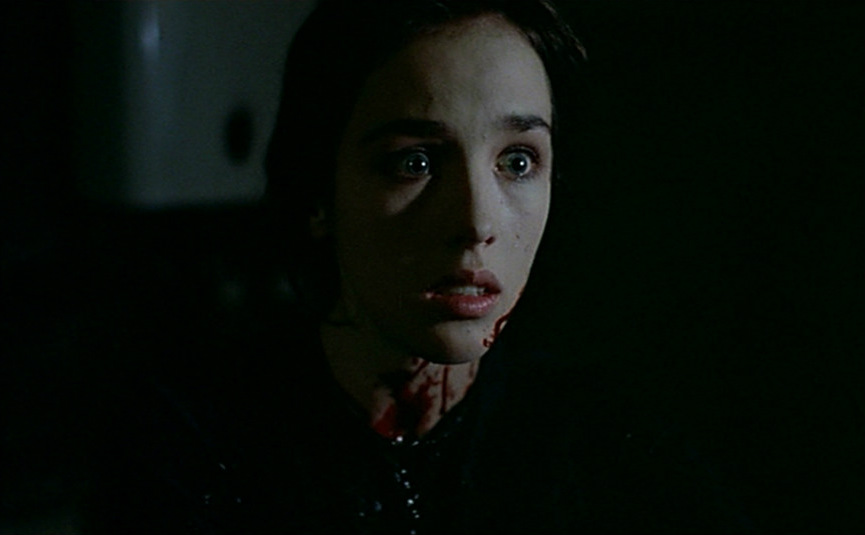 Isbelle Adjani, Possession, Andrzej Zulawski
How to render convulsive beauty, how to transform desolation into triumph? Adjani's answer is: via what comes naturally to me, via what others call the 'theatre of cruelty'. And that is certainly why Zulawski chose her: her 'marque d'actrice' is the way her body/voice combines primitivism with refinement, the violence of passion with the finesse of lucidity. Zulawski, in his audio commentary on the German edition of the DVD, says 'the actor becomes vulnerable, loveable, because they don't know the source of what they do'. In the Film Comment interview, he says of actors: 'You do it well, you do it right, you pay a heavy price'. And indeed Adjani, after seeing Possession for the first time (she didn't look at the rushes) told Zulawski: 'Your camera had no right to look there where it had insinuated itself' (see article in L'Express).
Be that as it may, her performance in Possession—shamanic, visceral, voodoo—is a landmark of world cinema, and one can only be thankful to her for the way she delivers herself to the camera. The way she simultaneously plays predator and prey, hunted and hunted, is terrifying and exalting. The way she incarnates the feminine, at once virile and vulnerable, is bewitching. Watching her, one's interest never goes slack; like a virtuoso musician executing discord and resolution, she is supreme in veering from seduction to attack. She makes us see that the otherness we fear is in fact something inside ourselves; in wrestling with her ghosts, she haunts us. I, for one, find that exhilarating.
How about you? Leave a comment via the comment box.
Isbelle Adjani, Possession, Andrzej Zulawski
ANDRZEJ ZULAWSKI ON 'POSSESSION'
Isabelle Adjani and Sam Neill, Possession, Andrzej Zulawski
Andrzej Zulawski: 'We shot the film an a 34m2 apartment. This claustrophobic element–we live in apartments, yet we have to walk, we have to move–this caged movement of people is one of the keys to Possession. This is exactly the state of mind the couple are in, locked and moving about in this cage, all the time.'
Andrzej Zulawski: 'Sam Neil is the glue holding the film together. Isabelle Adjani comes and goes and appears and disappears and makes a big bang every time she appears, but Sam had to be there all the time and hold the pieces together, by being there all the time.'
Sam Neill, Possession, Andrzej Zulawski
Isabelle Adjani and Sam Neill, Possession, Andrzej Zulawski
Andrzej Zulawski: 'Cinema is an extremely powerful weapon to disturb, to touch, to make people think–it's a primitive force.'
Andrzej Zulawski: ''The story of Possession is the story of my life. It's the only film I've made that is autobiographical. It says something—and this is the reason I wrote it—about my personal problems as a man with a woman I dearly loved. It's a film about a breaking up, about the end of a relationship, a marriage. I'm a strong believer in the couple, in marriage, in children.'
Isabelle Adjani and Sam Neill, Possession, Andrzej Zulawski
By Richard Jonathan | © Mara Marietta Culture Blog, 2017 | All rights reserved