'There's something of a Modigliani model in you: Your sensuality is as lush as it is austere.'
'Mara, Marietta', p. 36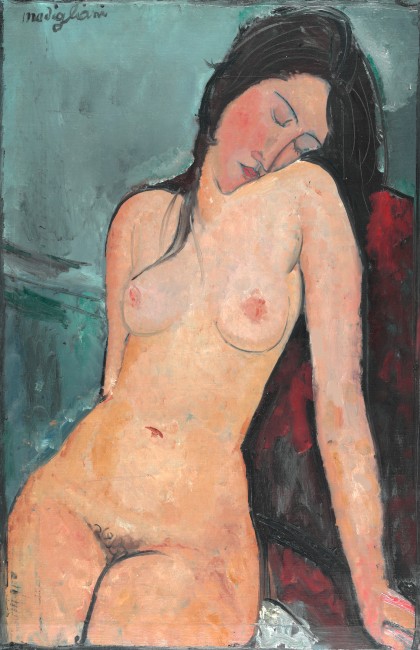 Modigliani, Seated Nude, 1916
WHY READ 'MARA, MARIETTA'?
'Mara, Marietta: A Love Story in 77 Bedrooms' – A literary novel by Richard Jonathan
1. Sparkling with intelligence, stylish and emotionally articulate, Mara, Marietta elevates the love story to the summit of literature. In its radical reinvention of the genre, it is akin to Kundera's The Unbearable Lightness of Being, and in aspects of its storytelling, it has a certain affinity with Baricco's Silk and Berger's To the Wedding.
2.  Mara, Marietta, in restoring to love the singularity of an erotic relation between subjectivities, revolutionizes the depiction of sex in fiction. Rarely has literary invention been deployed in such a sustained and varied manner in the service of this ideal (singularity and subjectivity in the domain of Eros), resulting in a rendering of sexual relationships in all their richness and complexity.
3.  The prose of Mara, Marietta  shades experience in fresh new colours, accessing the sub-conscious and pre-verbal in particularly innovative ways.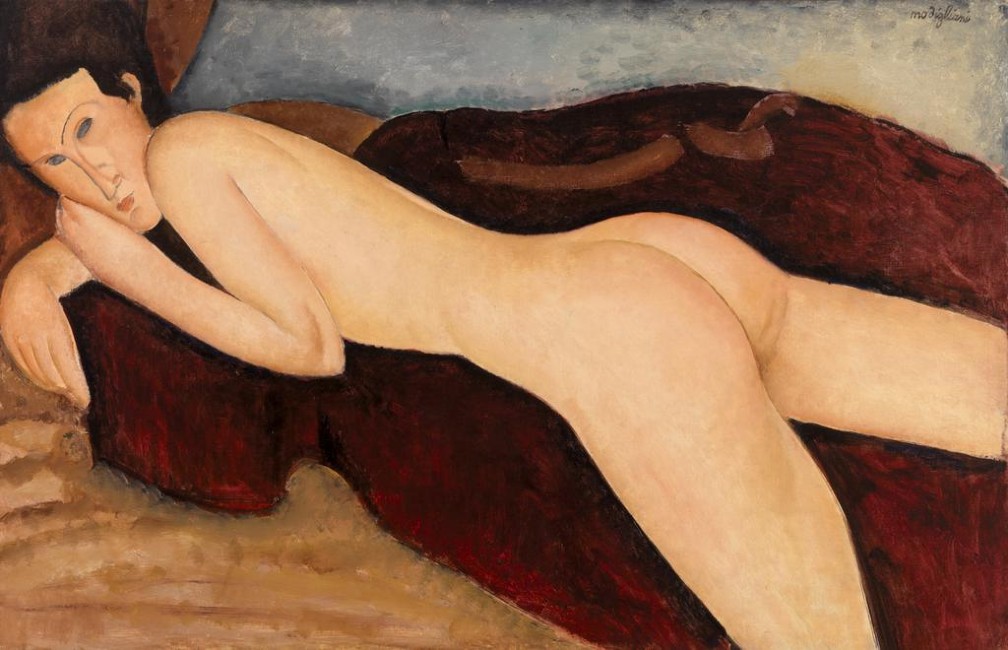 Modigliani, Reclining Nude Seen from the Back, 1917
4.  The heroine, Marietta, is akin to Mérimée's Carmen and Brontë's Catherine: she is an inexhaustible riddle, beyond good and evil.
5.  A kaleidoscopic fiction, endlessly inventive in its forms, the novel is highly cinematic and musical, at once rigorously structured in terms of melody, counterpoint, harmony and rhythm and intensely visual and fluid in time and space.
6.  Memory is the past tense of desire: Mara, Marietta's multiplicity of narrative modes is driven by the dynamics of this principle, making for a long novel free of longueurs.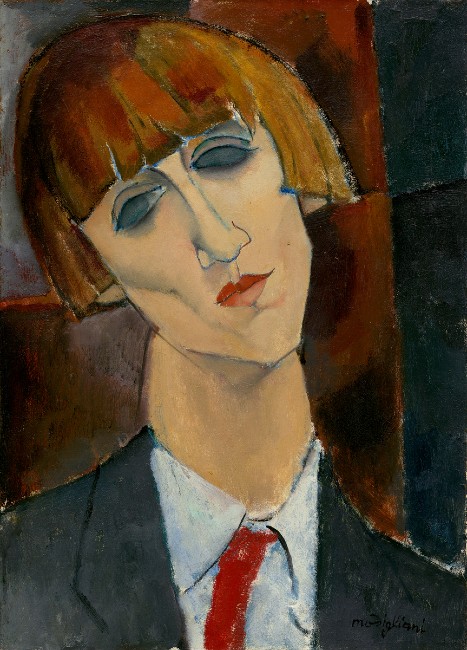 Modigliani, Madame Kisling, 1917
7.  In its intercutting of narrative lines and voices, its use of flashbacks and flash-forwards and its cubist depiction of character, Mara, Marietta creates a richly textured tapestry in which, for example, physical and metaphysical, earthly and spiritual, shift one into the other as they might in a shamanic trance, making for an exciting state of narrative flux.
8.  Mara, Marietta  aspires to the Shakespearean ideal of appealing to both aristocrats and groundlings, aiming to be at once challenging and entertaining.
9.  It is a novel that, by forging into uncharted territory, breaks new ground artistically. It resolutely refuses stale conventions, eschewing, for example, the simile in favour of a more exciting use of metaphor.
10.  If, in its interweaving of memory and desire, perception and recollection, Mara, Marietta may take its place in a prestigious literary lineage, it is nonetheless an utterly original work. Its architecture is frozen music that requires only a good reader to make it sing. A good reader? 'One who has imagination, memory, a dictionary, and some artistic sense' (Vladimir Nabokov).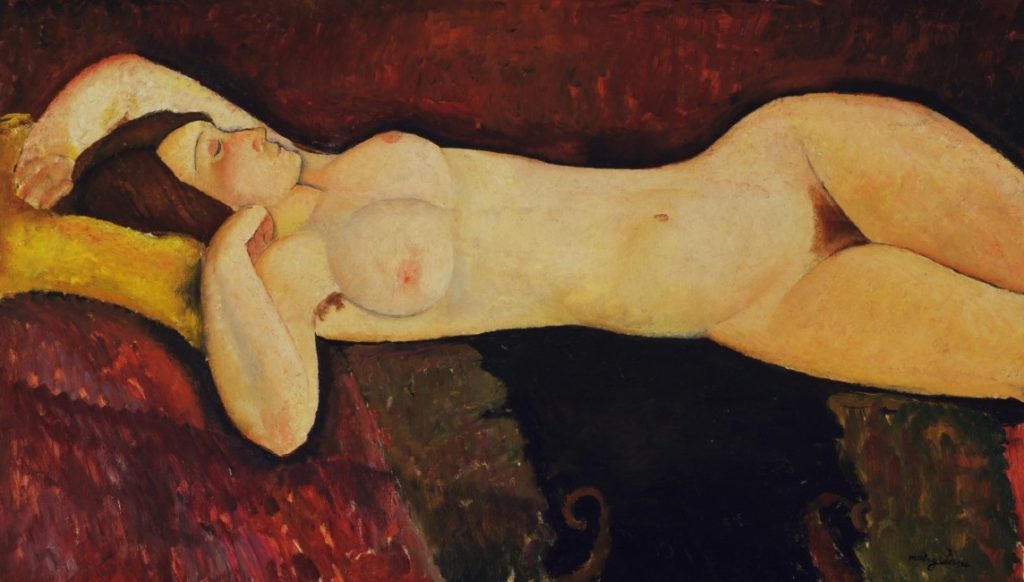 Modigliani, Reclining Nude, 1919
'MARA, MARIETTA': SYNOPSIS
'What excites you?' a girl asks the hero at a party. 'Art', he replies. Speaking of the heroine, the girl continues: 'And Marietta, what excites her?'. 'Risk', he says. The girl interprets this to mean 'sex'. And she is not mistaken. Indeed, Mara, Marietta is a love story told primarily through art and sex. In a heady cocktail of music, dance, cinema, sex, painting and poetry, the story moves from Princeton to Paris, and from there radiates out around the world.
She is a theoretical physicist and a musician, he a poet and rock song lyricist. They meet in New Jersey, say goodbye, then meet by chance three years later in Paris. In a midnight bar he tells her he's having trouble with the novel he's writing. She says, 'Tell the truth. That often makes the best fiction'. He asks her how. She says, 'Have you ever had your heart broken? I mean really broken, so that you had nothing left but your eyes to cry with? That would strip you down to your truth'. He says he hasn't, then asks her, 'Will you do it for me?'. 'Do what?' 'Break my heart.' Softly, but distinctly, she says, 'Yes, I will'. Between two beats of his heart he hears himself say, 'Thank you'.
From the archaeology of childhood to the founding of an ethics, from the investigation of desire to the affirmation of life as creation, the lovers discover through each other at once their own buried history and the deepest intimacy of the other.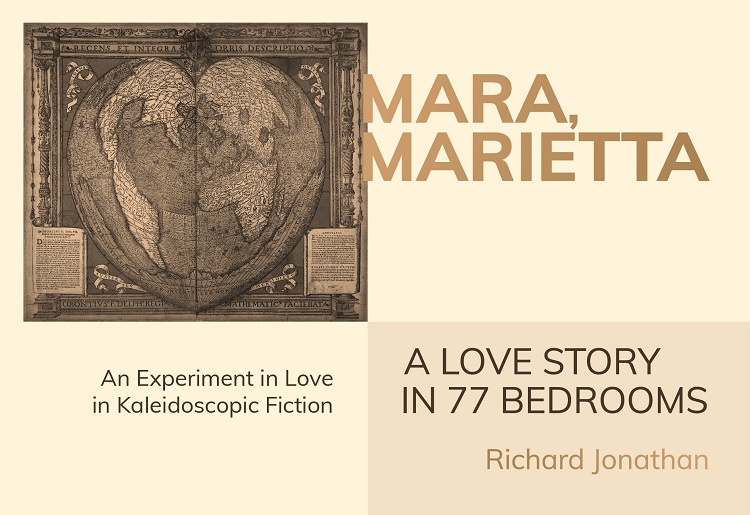 Mara, Marietta – A literary novel by Richard Jonathan
A SMORGASBORD OF PROSE FROM 'MARA, MARIETTA'
Dirt and nicotine turn the blue walls green in this derelict room where I lie. As the blown-glass lamp spills its yellowy light onto the worn floorboards, faded colours weave talismanic figures into the tattered carpet. From a vodka bottle, poppies drop their petals onto the tabletop. The urn by the washbasin, its red stars and vortices dancing in flowers and foliate green, reminds me there once was a curtain here.
In the briny air we took a brisk walk, enchanted by moon and cloud inverting figure and ground in the island-dotted sea. As I pressed your body to mine, cashmere fleece and merino wool conspired to make you melt into me.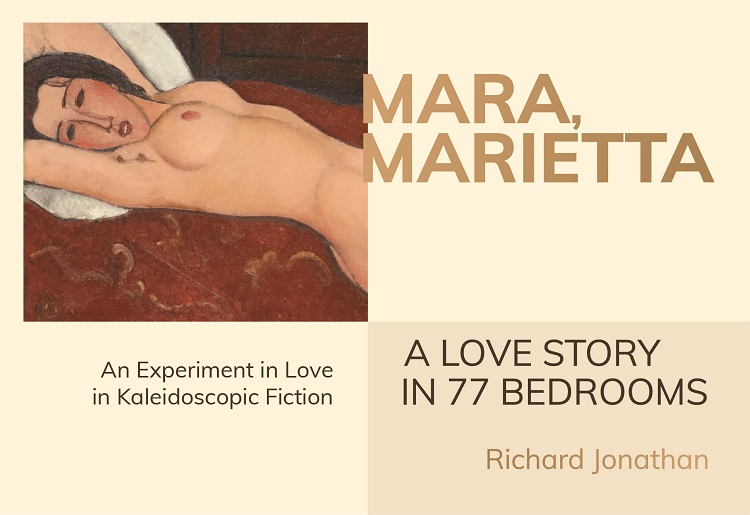 Mara, Marietta – A literary novel by Richard Jonathan
What do you see in me, Marietta, what do you want me to be? Shall I be a playground Pierrot, a crude buffoon in a knockabout world? Lovelorn, the butt of pranks, with my song-and-dance I'd dissolve all differences. Yes, in my conical hat and frilled collaret, madly I'd pursue Columbine, a punning jester to her impudent soubrette.
Though there be many in this bar tonight, I am alone here with you. Listen! As loud as the drums at the worship of the snake, your beauty bangs in my blood. The coral hibiscus of your lips, the silky oak of your eye; the Arabian jasmine of your cheeks, the balsam pear of your hair: In the equatorial calm of your face flicker the frenetic ceremonies of the convulsive. I want you, I want you, I want you! Is that plain enough? Still I embroider the screen of the baroque, making something of my desire before it devours me. How else to beguile the time before your are mine tonight?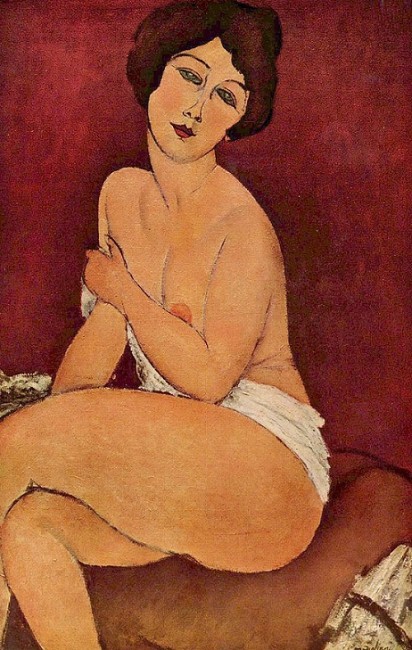 Modigliani, Nude Sitting on a Divan, 1917
Shall I be a perfect blonde, fueling with my intellect the fire of my ambition? After a spell as an armpiece to affluence, cold-hearted and unkind, I could pursue my mastery of abstract systems. No child-bearing hips, no milk-on-tap tits, with my lean look I'm already kitted out for the role. Skiing in winter, riding in summer, swimming all year round: Tall, tanned and beautiful, it would cost me nothing to play the perfect partner, perfectly unattainable. No, they wouldn't smell sex on me, but nor would they have to sniff very hard to find it. I could even go as far as to have a relationship, if ever there were a good reason to do so.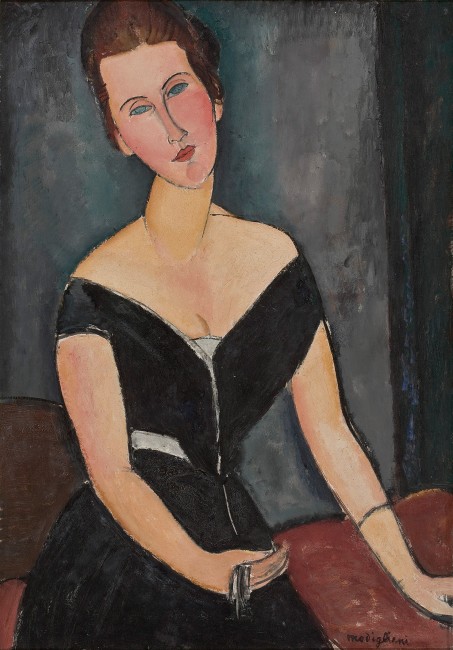 Modigliani, Madame Georges van Muyden, 1917
Salty diction, tender disillusion, beyond the rules of discord and resolution, the beguiling movement of a melodic line: Over a shimmering bed of flute and soprano, Julius Hemphill's alto sax teaches dignity in loneliness.
̶̶  When a man comes inside you, you feel it; you feel the beating of his heart in the pit of your belly, you feel the tremor of his spasms in your bones.
Gazing out across the Seine into the glittering night, we take in the moving gestures of the music. Tongues of fire play on black water, horns and woodwinds sparkle.
̶̶  It's like a Dali painting, a man's orgasm. A woman's is more like Monet.
̶  Which Monet?
̶  The Nymphéas, of course!
̶  Of course. All 250 of them?
̶  Yes, when you're lucky enough to have a marathon of good love-making.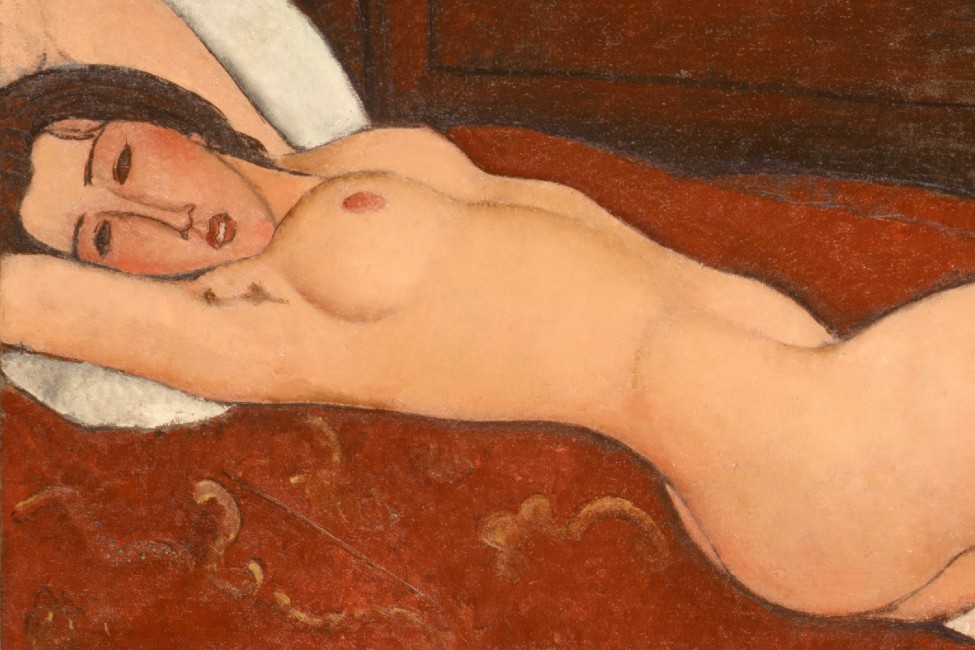 Modigliani, Reclining Nude, 1917
I've been walking the empty beach, Marietta, I've been walking the empty streets, threading my heart through the ghost of you. Yes, here in this city on the Baltic Sea, I've been walking in beauty and squalor, haunted by memories of you.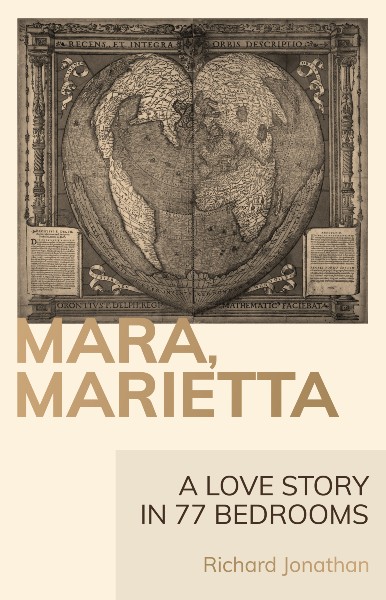 Mara, Marietta – A literary novel by Richard Jonathan
MARA, MARIETTA: A LOVE STORY IN 77 BEDROOMS by RICHARD JONATHAN
Available – see links at bottom of page – in paperback from Amazon; in ebook from Amazon, iBooks, Google Play, Nook and Kobo.
By Richard Jonathan | © Mara Marietta Culture Blog, 2020 | All rights reserved