Fran, Toni, Sasha & Iris: Four blondes with raven, red, ash-brown & ice-white dogfriends
MODELS AND DOGS: ONLY LOVE, NO BULLSHIT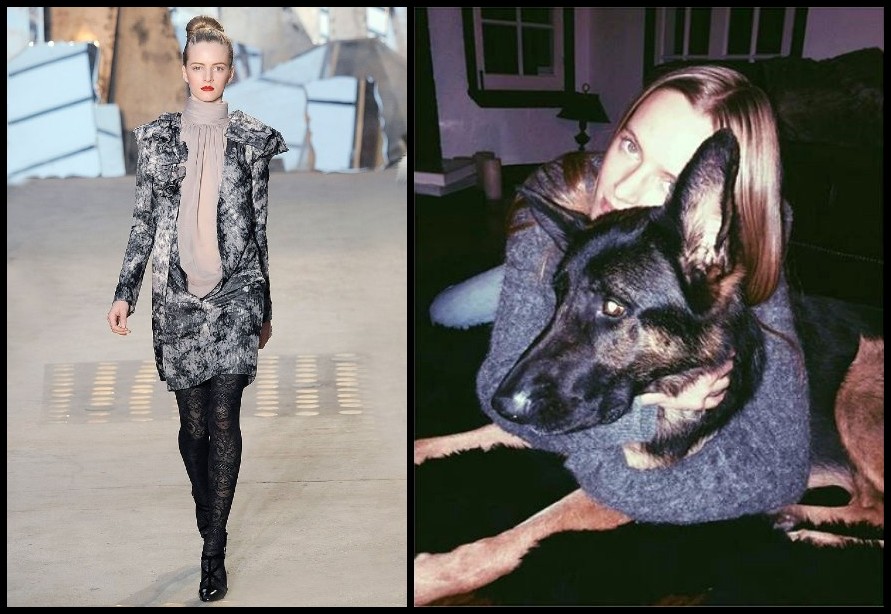 Daria Strokous, Christian Lacroix, 2009 | Daria Strokous and Hank
In his short story, 'Investigations of a Dog', Kafka's hero (a dog of unspecified breed) conducts a philosophical investigation into food and eating. In the course of his research he reflects on his place among his fellows, raising questions such as 'What kind of attempts do they make to manage to go on living in spite of everything?'. In this post I will conduct my own investigation into this question, focusing not on food and eating but on models and dogs. Yes, my philosophical research has led me to wonder just why fashion models have such a particular affinity with dogs. Indeed, check out the Instagram of just about any model and chances are you'll quickly find her snuggling up next to her dog—in bed, on her couch, in her car. So, what is it, then, with models and dogs? What role do dogs play in models' attempts 'to go on living in spite of everything'?
First, credit where credit is due: If I have chosen to put an image of Daria Strokous at the head of this post, it is because she, in speaking of Hank, has given me its subtitle: 'Only Love, No Bullshit'. Daria—whose intelligence matches her beauty, whose humour matches her know-how—has distance (an enabler of intelligence and humour), and that might explain why she knows not only how to be looked at, but also how to look. One has only to peruse her photographs—the ones she makes, as photographer—to see the excellence of her eye. And that is where I shall begin my investigation: with the eye, with looking and being looked at.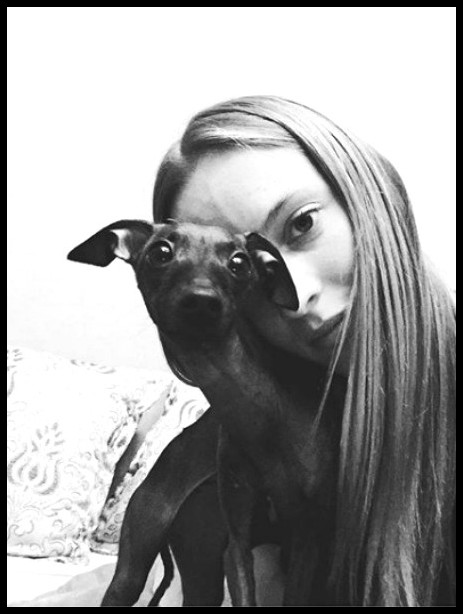 Daria Strokous | Photo: Daria Strokous
In Michelangelo Antonioni's film, The Passenger, Jack Nicholson asks Maria Schneider: 'What impression do you think you make on people when you first walk into a room?'. She answers: 'They look at me—they think I'm all right… Nothing mysterious—you learn everything about me at one glance'. While she may be transparent to herself (a function of her freedom, perhaps, of her living her life on her own terms), to others everything about her is mysterious. Indeed, the Girl (the character Maria Schneider plays) is exceptional in that her attitude to herself is not influenced by the gaze of others.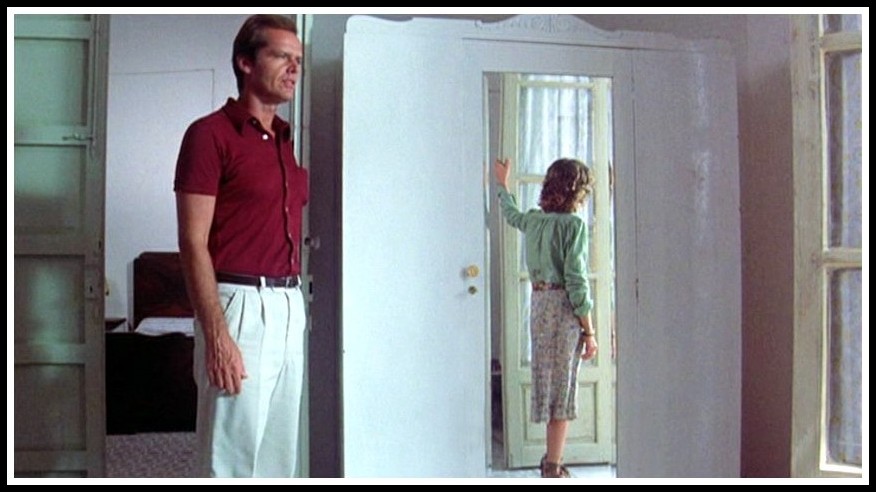 Jack Nicholson & Maria Schneider, The Passenger, Michelangelo Antonioni
More commonly, we find that: 'A woman must continually watch herself. She is almost continually accompanied by her own image of herself. Whilst she is walking across a room or whilst she is weeping at the death of her father, she can scarcely avoid envisaging herself walking or weeping. She has to survey everything she is and everything she does because how she appears to others, and ultimately how she appears to men, is of crucial importance for what is normally thought of as the success of her life. Her own sense of being in herself is supplanted by a sense of being appreciated as herself by another.' So wrote John Berger in Ways of Seeing (1972). Dated, you say?

FRAN SUMMERS
Givenchy 2020 | Yorkshire terrier | Fendi 2019
John Berger continues: 'Men act and women appear. Men look at women. Women watch themselves being looked at. This determines not only most relations between men and women but also the relation of women to themselves. The woman turns herself into an object—and most particularly an object of vision: a sight.' Time have changed, you assert? I grant you that, but only to an extent.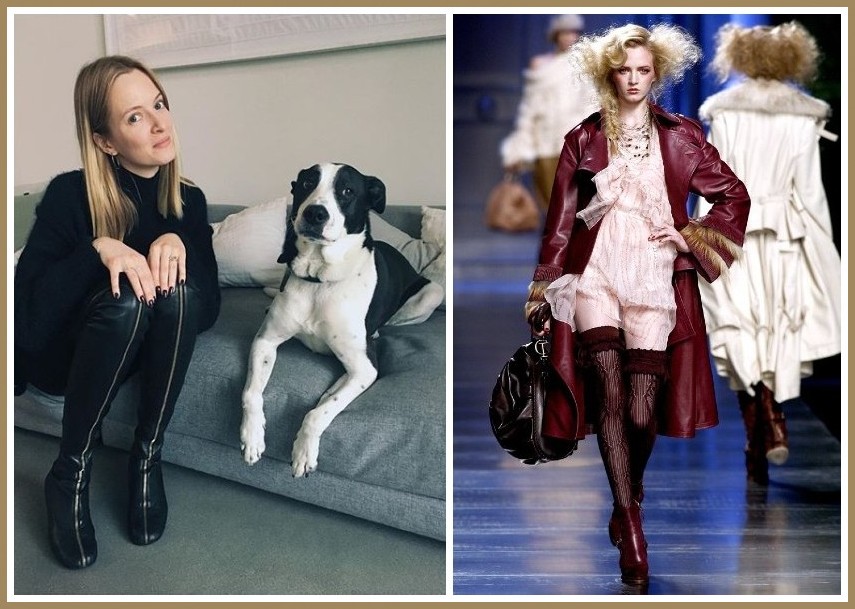 DARIA STROKOUS
Ginta Lapina's dogfriend, Duke | Christian Dior (John Galliano), 2010
Consider this, from English psychoanalyst, Darian Leader: 'A man is sitting in a café and sees a couple walk past. He finds the female attractive and watches her. Now, a woman in the same situation might well do something different. She may be attracted to the man, but will nonetheless spend more time looking at the woman who is with him. In other words, what interests her is less the man or the woman, than the relation between them. What does the woman have that has made this man her partner?' Now why, you may wonder, does the woman do this?

KRIS GRIKAITE
Chance encounter with a husky, arousing desire for a dogfriend
Simply because, in a variant of Kafka's dog, she is searching for a way to be a woman, for 'her place among her fellows'. Darian Leader explains: 'There is no univocal concept of what it is to be a woman, there is no essence of womanhood. According to Lacan, a girl may become a woman, but there is no ready-made answer as to how to do this. In the psyche, there is no pre‑programmed representation of the woman. In the place of feminine identity, there is a gap. No answer is automatically available as to what a woman is. Hence the key question for a girl, 'What is it to be a woman?' Is it to behave like one's mother or one's mother's friend? Is it to follow the current trend in fashion? Is it to have children?'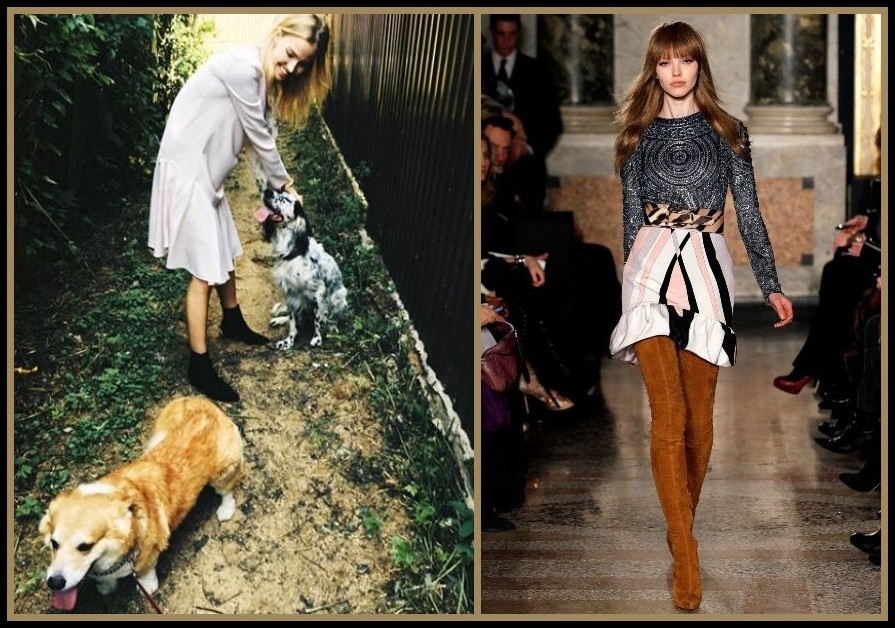 SASHA LUSS
Dogfriends (English setter and corgi) | Emilio Pucci, 2013
So you see, then, there is something particular to women both in being looked at and in looking. Models experience this more intensely than other women. After all, they earn a handsome living from being looked at. Those who keep their heads on straight balance being looked at by learning how to look (for) themselves: with distance. Hence the irony prevalent in many models' self-statements.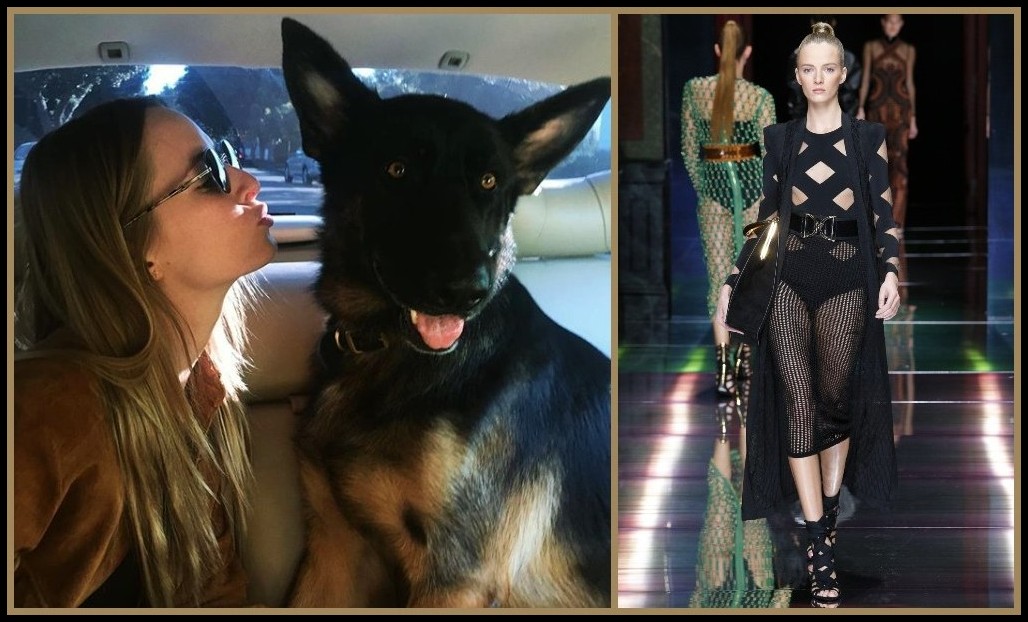 DARIA STROKOUS
Saturday night date with Hank | Daria Strokous, Balmain, 2016
Only love, no bullshit: The reason models tend to be so fond of dogs, then, now seems obvious: A dog's love is an antidote to bullshit, and models are subjected to more bullshit than most women. In the context of modelling, 'bullshit' necessarily refers to the entanglements of the daring-glass (a trap to catch birds), the excesses of the desiring gaze. For models, every working day is a potential battle where self-belief and inner-direction confront the temptation to internalize outer ascription. Every victory of inner-direction is a victory over alienation, and thus an affirmation of self-belief.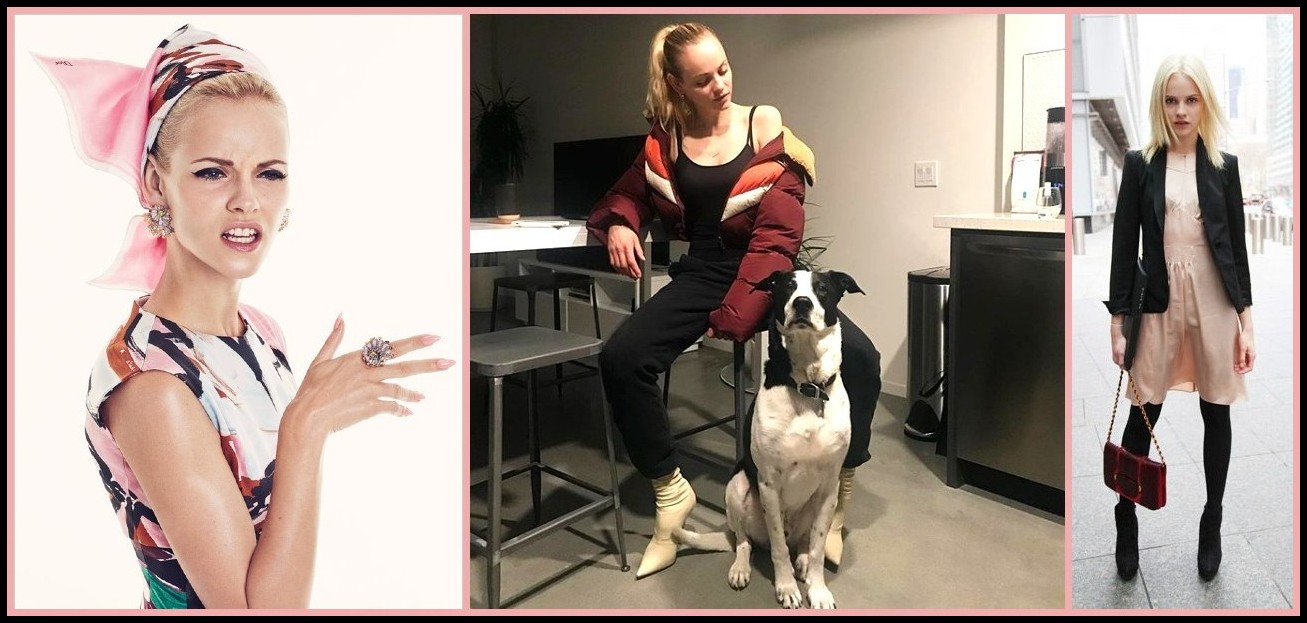 GINTA LAPINA
Vogue Japan | Dogfriend Duke | Prada
To help her resist the snares of the daring-glass, a model needs something to keep her grounded. I suggest it's not a coincidence, then, that dogs seem to be found much less often in the Instagrams of older models (who have started their own families) than with younger ones.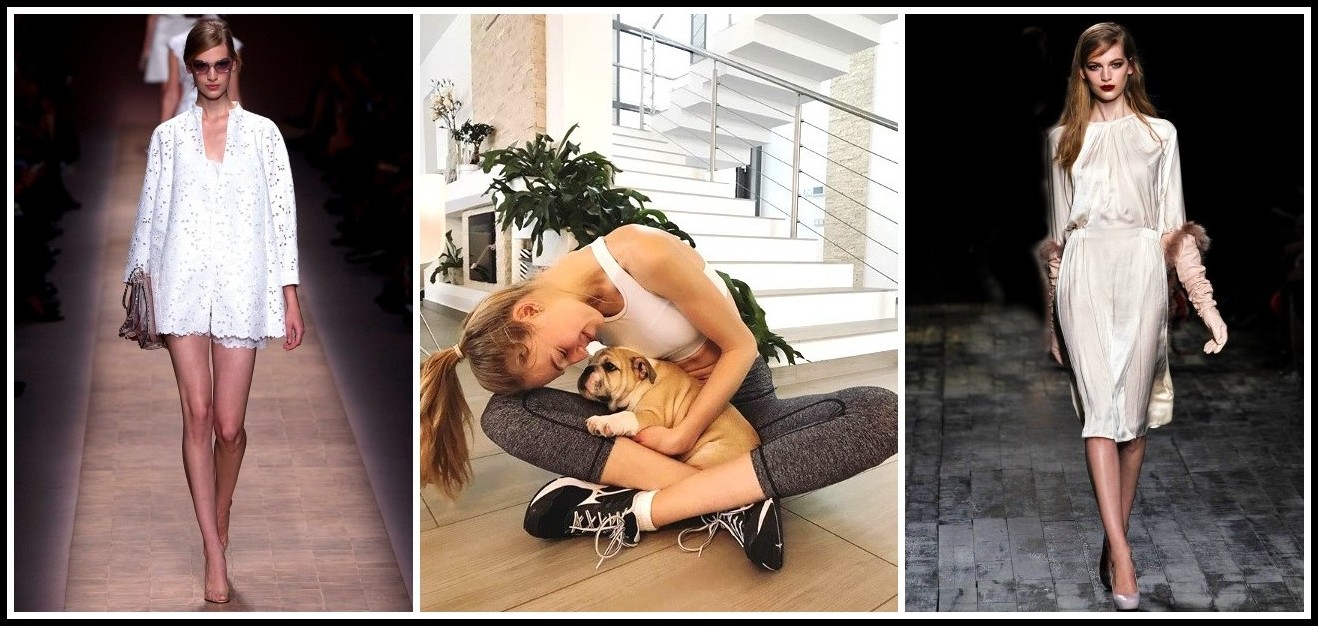 VANESSA AXENTE
Valentino 2013 | Dogfriend Wilson | Nina Ricci 2012
A dog's love is direct—it isn't filtered, as human love is, through the looking-glass of one's past. Moreover, it is a pure love, unlike human love which, as anyone versed in psychoanalysis will know, is always and necessarily a mixture of love and hate. (Give a listen to Leonard Cohen's Songs of Love and Hate—poets always precede scientists in the getting of wisdom). And finally, a dog's love, as all dog lovers affirm, is unconditional, whereas human love (except in the case of the parent-child relation) lacks that unconditionality.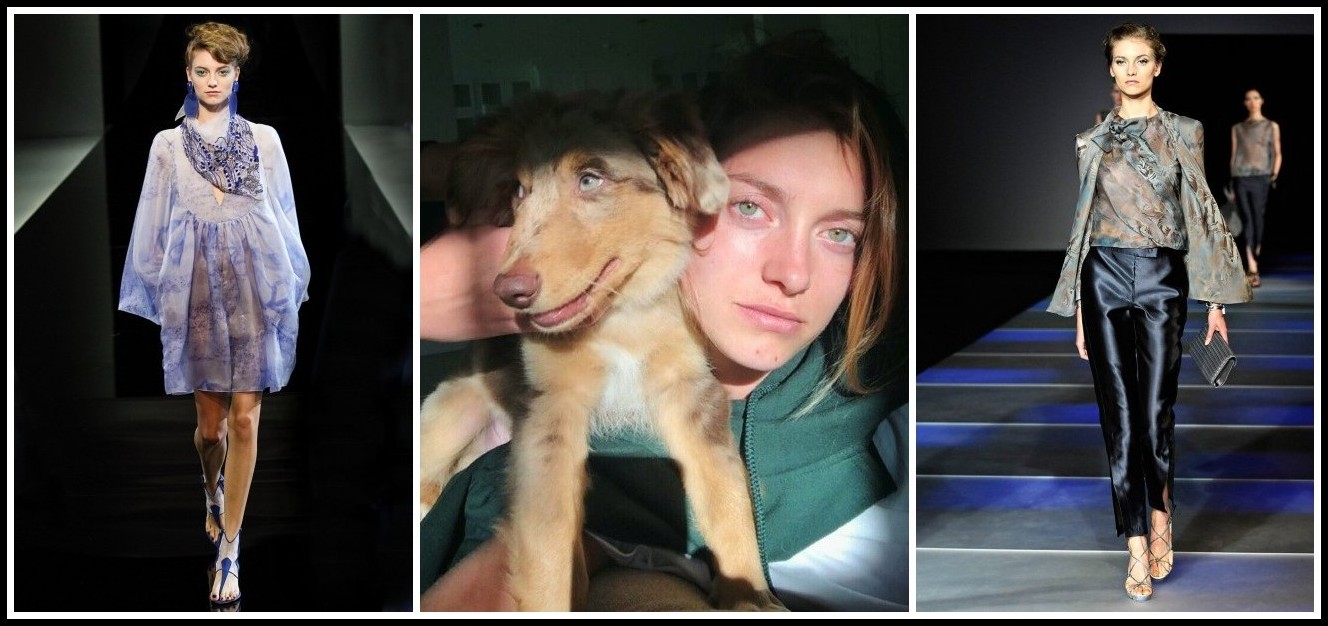 IRIS VAN BERNE
Giorgio Armani, 2013 | 'My brother from another mother' | Giorgio Armani, 2012
It's easy to see, then, that to the working model logging up miles and miles of travel, engaging in relations that are largely transactional (often entailing a shift in position on the totem pole of fashion) and immersed in the artifice that is essential to art, being able to count on the loyalty of her dog—and the sign in his or her eyes that says 'no bullshit here'—is invaluable.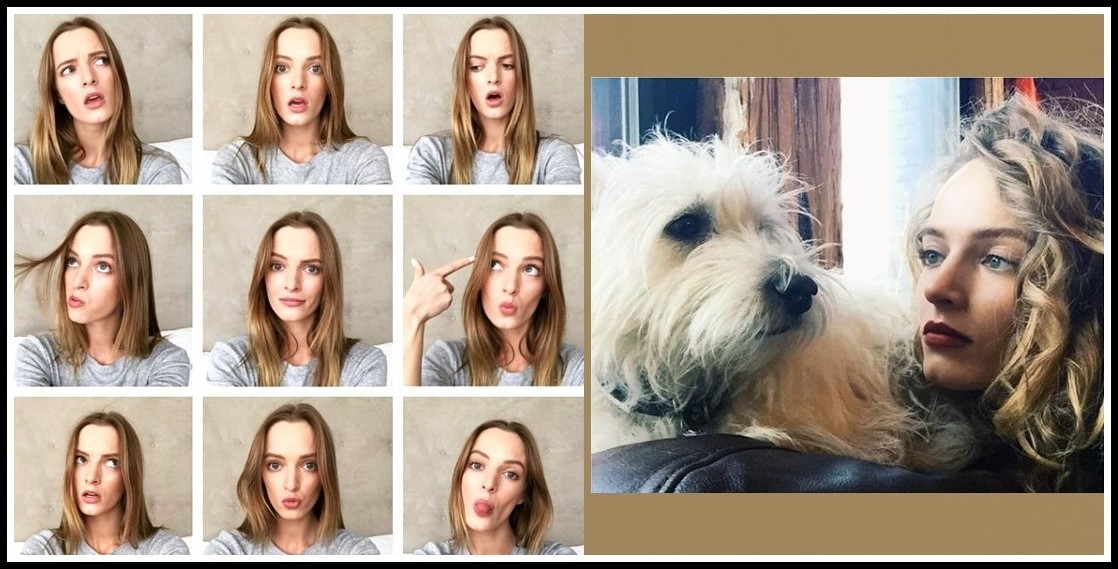 Daria Strokous | Norfolk terrier
With her dog, then, a model can let down her guard (cf. John Berger's analysis) and she no longer has to wonder what it means to be a woman (cf. Darian Leader's interpretation). In a word, in the battle between inner-direction and outer ascription, her dog is on her side: he or she increases the model in her self-belief.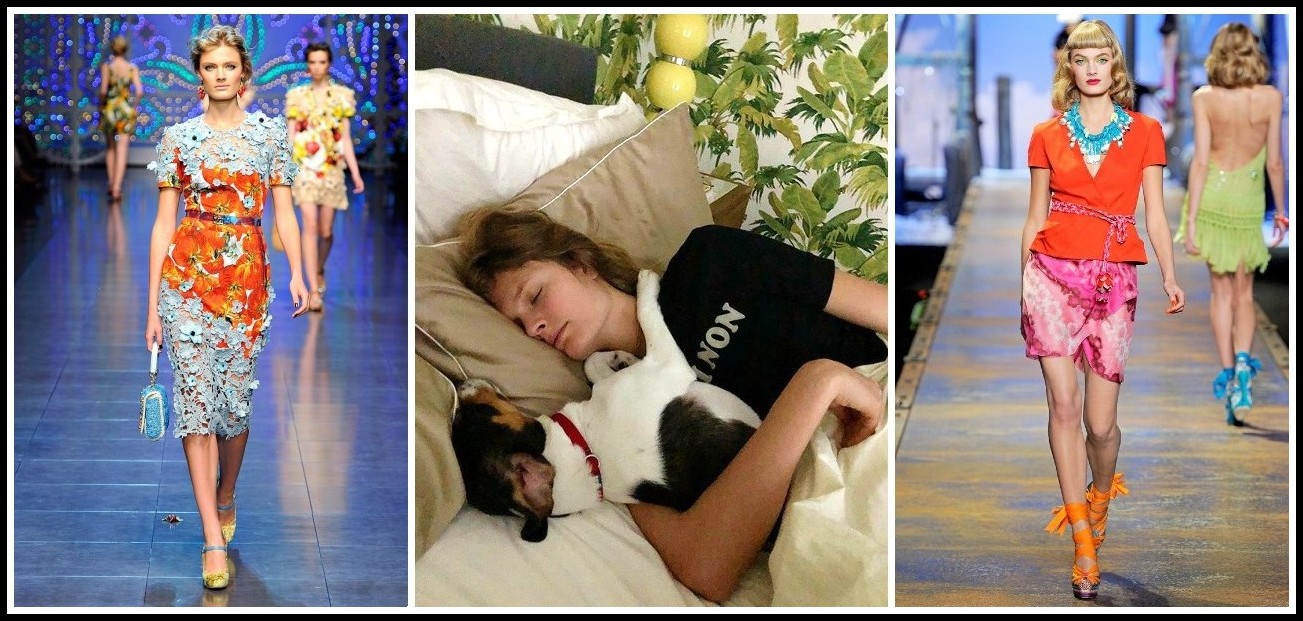 CONSTANCE JABLONSKI
Dolce & Gabbana, 2012 | Dogfriend Ariane | Christian Dior, 2011
If, one can argue, these dog-human dynamics apply to everyone, not just models, there is one domain where the dog-model relation is unique: dogs are not subject to the terror of beauty (see below, Rilke Duino Elegies) nor, when they seat Beauty on their knee, do they find her bitter (see below, Rimbaud, A Season in Hell). To her dog, Daria would be just as beautiful sick-abed in her pajamas as she is flogging Dior at Versailles (though here the little mutt, sick-abed in his pajamas, is reversing roles) And that, to a model, must come as a relief. Woof woof!

DARIA STROKOUS
Dior | Dogfriend sick-abed | Dior
RILKE: 'DUINO ELEGIES' I, STANZA 1
'Beauty is nothing but the beginning of terror.'
Who, if I shouted, among the hierarchy of angels
would hear me? And supposing one of them
took me suddenly to his heart, I would perish
before his stronger existence. For beauty is nothing
but the beginning of terror we can just barely endure,
and we admire it so because it calmly disdains
to destroy us. Every angel is terrible.
And so I restrain myself and swallow the luring call
of dark sobbing. Ah, whom can we use then?
Not angels, not men, and the shrewd animals
notice that we're not very much at home
in the world we've expounded. Maybe on the hill-slope
some tree or other remains for us, so that
we see it every day; yesterday's street is left us,
and the gnarled fidelity of an old habit
that was comfortable with us and never wanted to leave.
Translated by C.F. MacIntyre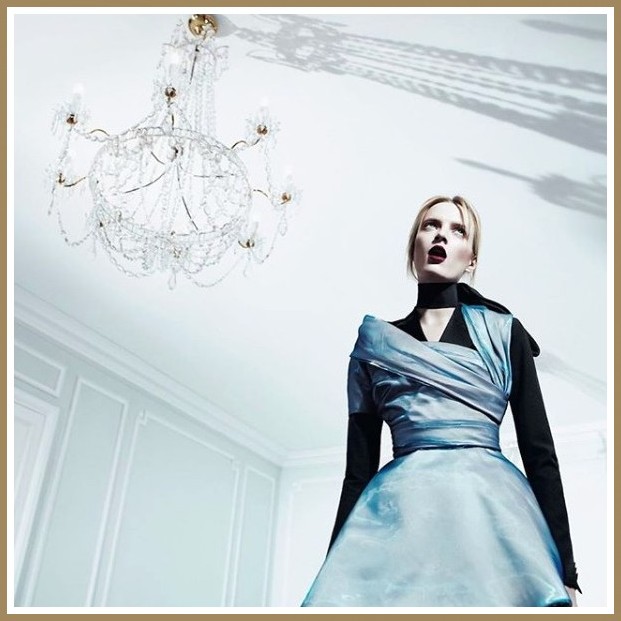 RIMBAUD: 'A SEASON IN HELL', OPENING LINES
'I sat Beauty on my knee. And I found her bitter.'
Long ago, if my memory serves, life was a feast where every heart was open, where every wine flowed.
One night, I sat Beauty on my knee. —And I found her bitter. —And I hurt her.
I took arms against justice.
I fled, entrusting my treasure to you, o witches, o misery, o hate!
I snuffed any hint of human hope from my consciousness. I made the muffled leap of a wild beast onto any hint of joy, to strangle it.
Dying, I called my executioners over so I could bite the butts of their rifles. I called plagues to suffocate me with sand, blood. Misfortune was my god. I lay in the mud. I withered in criminal air. And I even tricked madness more than once.
And spring left me with an idiot's unbearable laughter.
Translated by Wyatt Mason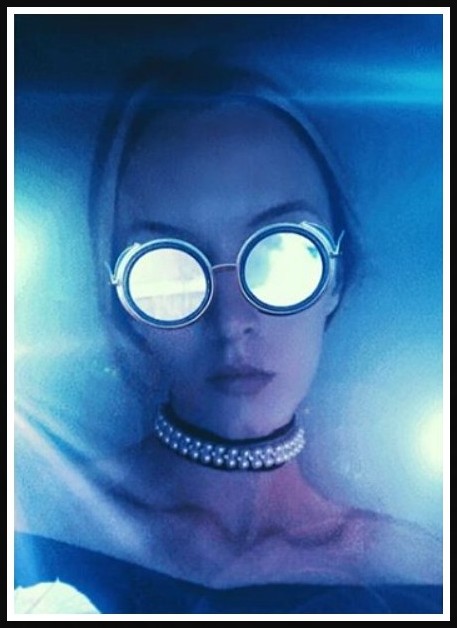 Daria Strokous, Witching Hour | Photo: Daria Strokous
SPRAGUE AS A DOG IN 'MARA, MARIETTA'
In all cultures, mythology gives us dimensions of dogs very different from the ones focused on in this post. Drawing on these mythological dimensions, here, from Mara, Marietta, are six evocations of himself as a dog that Sprague conjures in the course of a chapter. The context is that he has just made love with Marietta—as dogs do it—forcing from her the feminine. In the novel you'll discover how this plays out, and if you're interested in the theoretical underpinnings of this dimension of sexuality, see Jacqueline Schaeffer, The Universal Refusal: A Psychoanalytic Exploration of the Feminine Sphere and its Repudiation, or, for a shorter exposition, Jacqueline Schaeffer, 'The riddle of the repudiation of femininity: the scandal of the feminine dimension' (in On Freud's 'Femininity', edited by Leticia Glocer Fiorini & Graciela Abelin-Sas Rose. London: Karnac Books, 2010; pp. 129-143).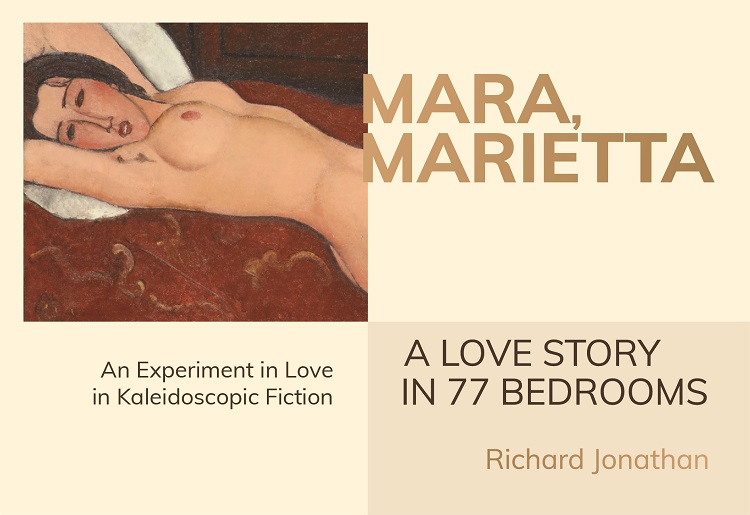 Richard Jonathan, Mara, Marietta, A Literary Novel
FROM 'MARA, MARIETTA'
Part One Chapter 13
I am the object of God's curse, I am a fallen angel: Wrapped in a houndstooth throw, a jagged check weaving promise and potential into the darkness of gestation, I lie on the floor listening to your life as a little girl. Woof, woof!
My teeth are the fixed stars, my wide-open eyes the colour of womanhood: Cloaked in my throw, I withdraw into myself: Myself where already you dwell. Woof, woof!
I am robed in ashes and mist, through darkness and death I guide your soul: Two over the warp, two under, advancing one thread each pass, the threads of my throw adorn the unadorned. Woof, woof!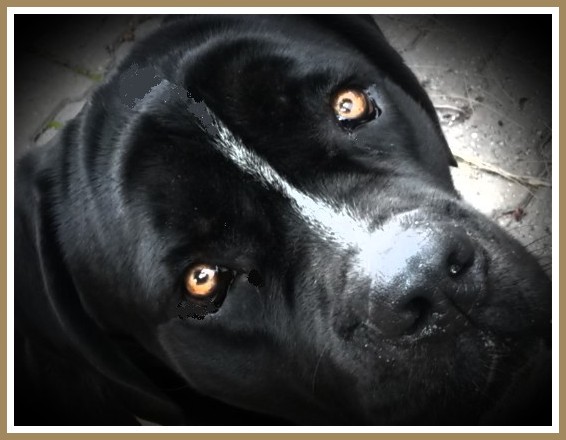 The amber eyes of the hell hound.
FROM 'MARA, MARIETTA'
Part One Chapter 13
The wanderings of the dead my tracks depict, I devour the stars and regurgitate the dawn: Four of day and four of night, alternating in both warp and weft, around my soul my throw interweaves intuition and reason. Woof, woof!
I know the way through the forest, I can see in the dark: I am wrapped in the outward show of my inner being. Woof, woof!
I am the haunter of cross-roads and graveyards, I am the initiator who sustains desire: Earthy, intuitive, maternal, the colour of death on my throw grounds the colour of passage. Woof, woof!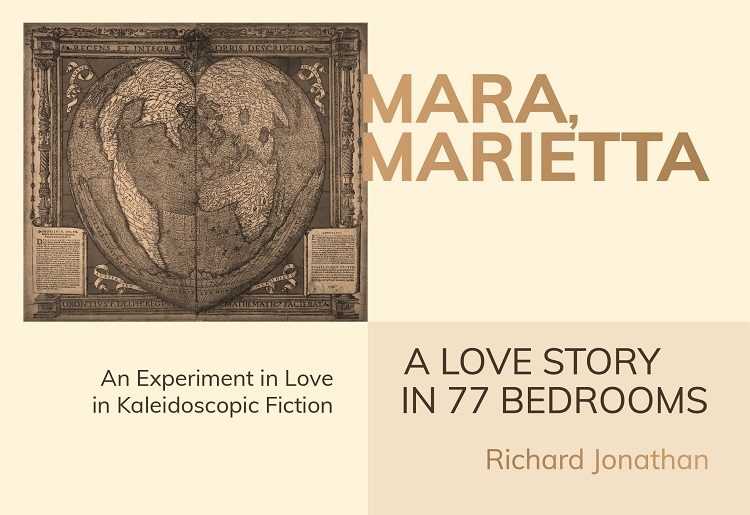 Richard Jonathan, Mara, Marietta, A Literary Novel
MARA, MARIETTA: A LOVE STORY IN 77 BEDROOMS
A literary novel by Richard Jonathan
FIVE DOGS | FIVE MODELS | 'BÊTE NOIR' | BRYAN FERRY

Bulldog | Heidi Mount x2 (Chanel RTW 2010) | Bryan Ferry, 'Bête Noire' | Catahoula Leopard Dog
You can listen to the track in full with a registered Spotify account, which comes for free.
I know you're inside me
Like poison, like wine
Now there's no sense in falling
Say you'll be mine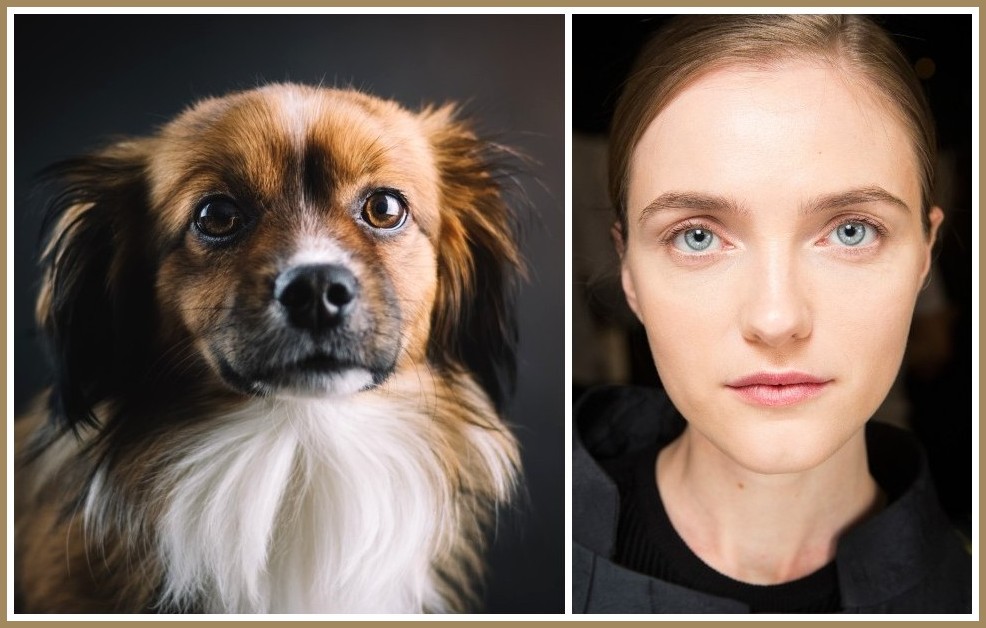 Phalène (Photo: Tomasz Filipek) | Vlada Roslyakova (Dries Van Noten, 2017, RTW)
Give me the world around you
Give me the time
Only a dream without you
Say you'll be mine
Afghan Hound (Photo: Arve Kern) | Daria Strokous
I've got you inside me
In darkness entwined
I would be lost without you
Say you'll be mine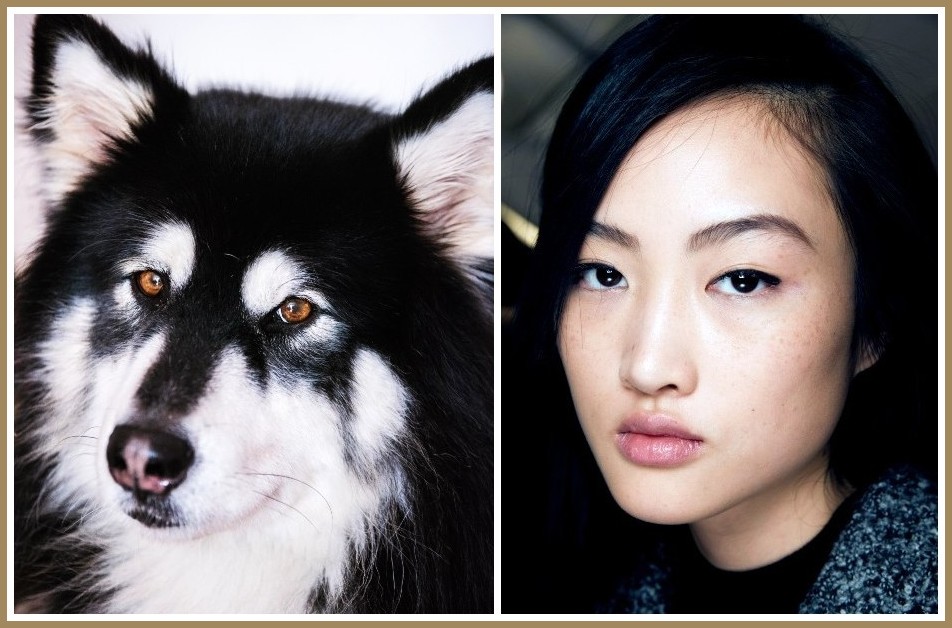 Canadian Eskimo Dog (Photo: Ud A) | Model ? (Christian Dior, 2016, Couture)
Reflected in water
Imagined by fire
I will be waiting for you
Say you'll be mine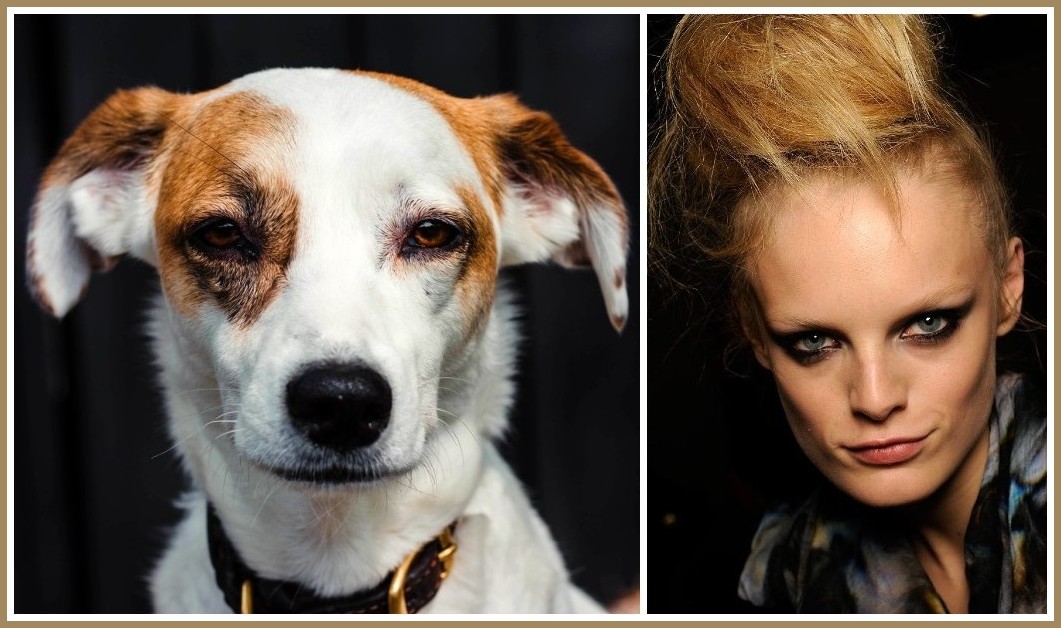 Beagle (Photo: Erin Wilson) | Hanne Gaby Odiele (Lanvin, 2010, RTW)
Give me the world around you
Give me the time
Only a dream without you
Say you'll be mine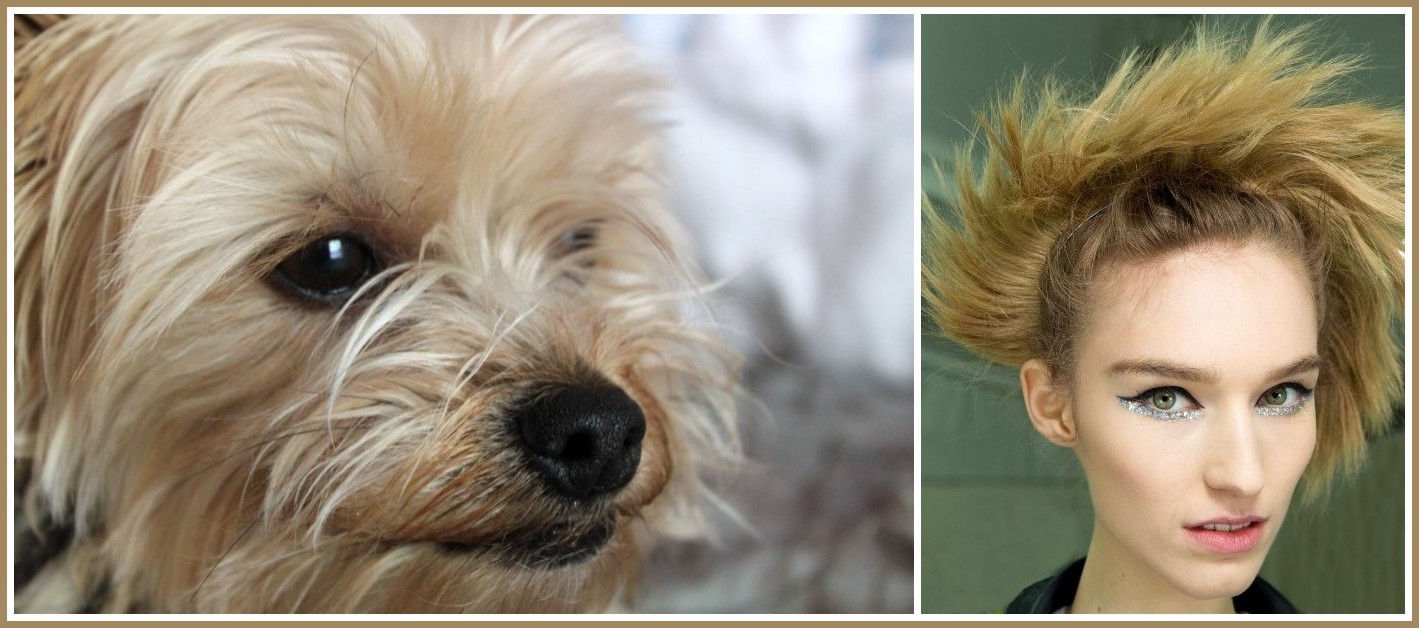 Norfolk terrier (Photo: Gabriel Griego) | Manuela Frey (Chanel, 2014, Couture)
Reflected in water
Imagined by fire
I will be waiting for you
Say you'll be mine
Beware bête noire, beware bête noire…
FEMININITY, FETISHISM, CLOTHES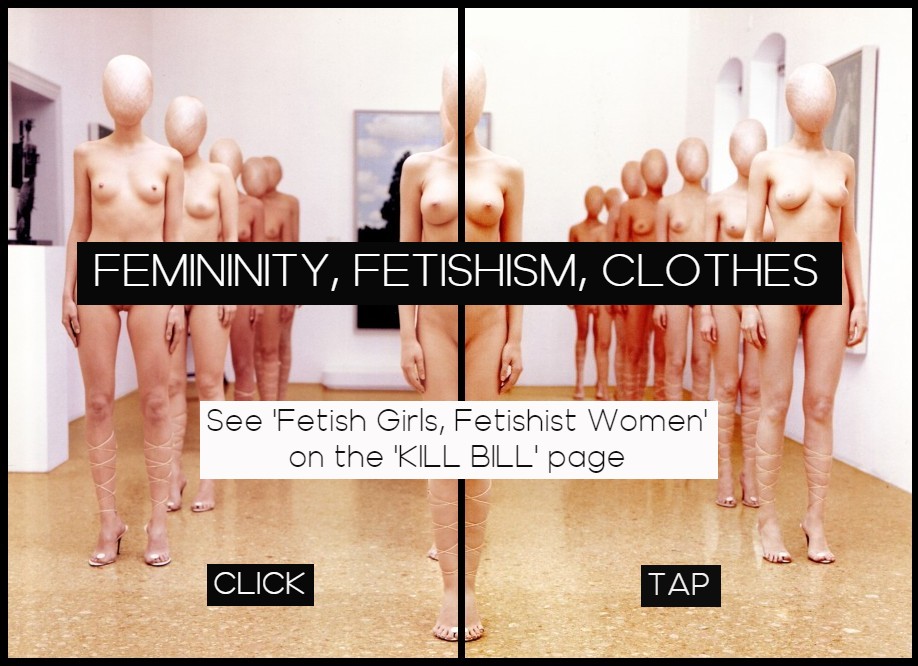 'Fetish Girls, Fetishist Women', an article by psychoanalyst Geneviève Morel
FASHION IN 'MARA, MARIETTA'
CLICK ON AN IMAGE TO GO TO THE CORRESPONDING PAGE
By Richard Jonathan | © Mara Marietta Culture Blog, 2020 | All rights reserved